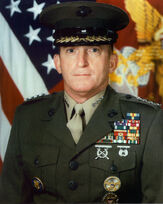 The
Three Block War
is a concept described by U.S. Marine General
Charles Krulak
in the late 1990s to illustrate the complex spectrum of challenges likely to be faced by soldiers on the modern battlefield. In Krulak's example, soldiers may be required to conduct full scale military action, peacekeeping operations, intelligence gathering operations and humanitarian aid within the space of three contiguous city blocks. The thrust of the concept is that modern militaries must be trained to operate in all three conditions simultaneously, and to do so, leadership training at the lowest levels needs to be high. The latter condition caused General Krulak to invoke what he called "strategic corporals"; low-level unit leaders able to take independent action and make major decisions.
Such a conflict took place in 2007, known as the East Asian Crisis. Among the countries involved were the United States, the People's Republic of China, Japan, South Korea, and North Korea. Open warfare was conducted along the Korean Peninsula as well as within the South Korean capital of Seoul. The main outbreak of this war came about because of the destruction of the USS Clarence E. Walsh, the U.S Navy information warfare warship.
See also
Edit
Ad blocker interference detected!
Wikia is a free-to-use site that makes money from advertising. We have a modified experience for viewers using ad blockers

Wikia is not accessible if you've made further modifications. Remove the custom ad blocker rule(s) and the page will load as expected.