This article is about references to Sam Fisher in popular culture.
Metal GearEdit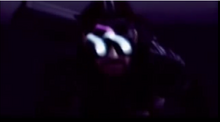 Tom Clancy's Rainbow SixEdit
In Tom Clancy's Rainbow Six: Vegas 2, there is an Achievement/Trophy named "My Name is Sam" for which the player must get five headshot kills in a row while using a silenced weapon. The achievement photo shows the iconic trifocal goggles.
In Tom Clancy's Rainbow Six Siege, there is a Splinter Cell skin for the GIGN weapon P90 that features the Multi-Vision Goggles. This is acquired by playing Splinter Cell Blacklist and purchasing the skin on the Uplay store.
Rayman Raving Rabbids 2
Edit
In Rayman Raving Rabbids 2, there is an outfit that represents the initial suit used by Sam fisher, complete with night vision goggles.

Parrarely, In splinter Cell Conviction, by the first coridoor in the White House, there is a Raving Rabbid figurine.
There is a mini-game called Spitter Sells where Rayman and the Raving Rabbids spit on unaware customer's drink.
In the game "Vanquish", there is an achievement called "Fisher is the other Sam" which can be attained by proceeding on the monorail in Act 3-4 without being spotted by the enemy troops or searchlights.
Watch Dogs Edit
The Division
Edit
In The Division beta, the Multi-Vision Goggles, showcasing the glowing Trifocal symbol, can be found laying on a desk.
There is a purchaseable version of the Multi-Vision Goggles and Sam's classic black combat suit on the Uplay store.
League of Legends
Edit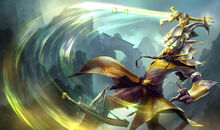 Ad blocker interference detected!
Wikia is a free-to-use site that makes money from advertising. We have a modified experience for viewers using ad blockers

Wikia is not accessible if you've made further modifications. Remove the custom ad blocker rule(s) and the page will load as expected.