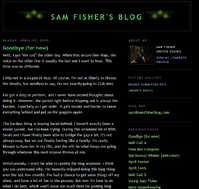 "With that, it's goodbye for now. Fisher out."
― Sam Fisher's final blog post
Sam Fisher's Blog was a blog created by Ubisoft around the release of Tom Clancy's Splinter Cell: Chaos Theory, with 'Sam Fisher' posting up blog posts every other day or week. The blog ran from January 22, 2005 to April 17th, 2005 (meaning it ran before, and then after Chaos Theory, with the game releasing March 28th, 2005).
Overview
Edit
The blog website functioned the same as every other blog site, although the posts were from Sam Fisher as he answered questions from fans, talked about recent events and popular cultural references to the real world, such as American Idol. Every so often, people could send Sam Fisher an email on his blog (sam@samfisherblog.com) and he would occasionally answer the questions (with the title of the blog posts being 'Mail Call').
The blog has since been taken down, but can still be accessed from the Wayback Machine's web archive capture of the website, which can be found here.
External links
Edit
www.samfisherblog.com (using web archive)
Ad blocker interference detected!
Wikia is a free-to-use site that makes money from advertising. We have a modified experience for viewers using ad blockers

Wikia is not accessible if you've made further modifications. Remove the custom ad blocker rule(s) and the page will load as expected.