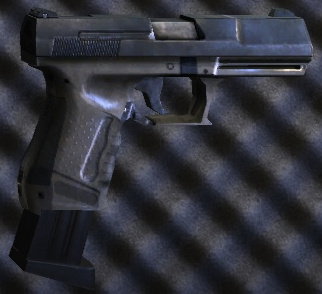 The P99 is a pistol featured in Tom Clancy's Splinter Cell: Conviction and available for use by the player.
Description
Edit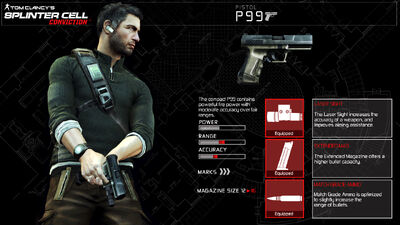 "The compact P99 contains powerful fire power with moderate accuracy over fair ranges."
Upgrades
Edit
The following three upgrades are available for the P99:
Laser Sight
Edit
The Laser Sight increases the accuracy of a weapon and improves aiming assistance.
Cost: 250 Points
Extended Mag
Edit
The Extended Magazine offers a higher bullet capacity.
Cost: 300 Points
Match Grade Ammo
Edit
Match Grade Ammo is optimized to slightly increase the range of bullets.
Cost: 250 Points
Ad blocker interference detected!
Wikia is a free-to-use site that makes money from advertising. We have a modified experience for viewers using ad blockers

Wikia is not accessible if you've made further modifications. Remove the custom ad blocker rule(s) and the page will load as expected.