The MP7A1 is a suppressed machine pistol featured in Tom Clancy's Splinter Cell: Conviction and available for use by the player. Widely considered to be the best machine pistol, it is the only one available with a silencer and, unusually, the most powerful. It can unlock for use by going to the main page of Splinter Cell: Conviction, selecting the "Exclusive Content" menu, selecting "Extras", and then selecting "Exclusive Content".
Because the MP7A1 is both one-handed and suppressed, some of its CQC takedowns involve shooting. However, because it is not a pistol and does not have infinite ammo, none is expended during CQC takedowns, no matter how many bullets are fired. Also, because the MP7A1 is a machine pistol and not a submachine gun, it can be fired while hanging from pipes and ledges making it a good choice for those who prefer to take "the path less traveled". This, along with its large ammunition capacity, suppressor, high number of marks, automatic fire, and power, makes the MP7A1 a very practical weapon for both stealth infiltration and firefights.
Description
Edit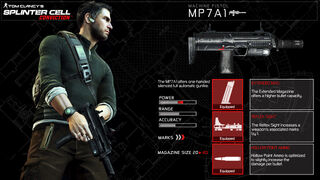 "The MP7A1 offers one-handed silenced full automatic gunfire."
Upgrades
Edit
The following three upgrades are available for the MP7A1:
Extended Mag
Edit
The Extended Magazine offers a higher bullet capacity.
Cost: 300 Points
Reflex Sight
Edit
The Reflex Sight increases a weapon's associated marks by 1.
Cost: 400 Points
Hollow Point Ammo
Edit
Hollow Point Ammo is optimized to slightly increase the damage per bullet.
Cost: 250 Points
External links
Edit