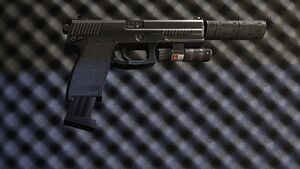 The MK.23 is a suppressed semi-automatic pistol featured in Tom Clancy's Splinter Cell: Conviction and available for use by the player. It is the first pistol available to Sam at the beginning of the game. It holds 12 rounds by default, 18 after purchasing the Extended Mag upgrade. It is a powerful pistol, after the upgrade this is the second only to the Desert Eagle, which suffers from the inability to accept a suppressor, making the MK.23 more practical. The pistol's only drawback is that only two enemies can be executed with it at the same time.
MK.23 is Sam's default weapon for early levels of the game, before being replaced by Five-seveN in Washington Monument mission.
Description
Edit
"Available by default, the silenced MK.23 pistol is averagely balanced, but still gets the job done."
Upgrades
Edit
The following three upgrades are available for the MK.23:
Extended Mag
Edit
The Extended Magazine offers a higher bullet capacity.
Cost: 300
Laser Sight
Edit
The Laser Sight increases the accuracy of a weapon and improves aiming assistance.
Cost: 250
Hollow Point Ammo
Edit
Hollow Point Ammo is customized to slightly increase the damage per bullet.
Cost: 250