Sam Fisher: "Are you scared?"
John Hodge: "Why? Should I be?"
— Sam Fisher and John Hodge.
John Hodge was Third Echelon Splinter Cell who appeared in Tom Clancy's Splinter Cell: Double Agent (Version 1). He was required to team up with veteran Splinter Cell Sam Fisher in the game's first mission. He was killed due to his arrogance.
Background
Edit
John Hodge was an over-enthusiastic rookie Splinter Cell who was eager to show up Fisher. He went as far as leaping out of the Osprey before Fisher, shouting, "Let me lead the way!"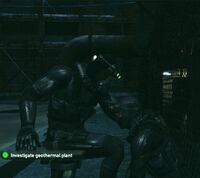 In September 2007, Hodge was sent to his first mission to aid Sam Fisher at a geothermal plant 20 kilometers from Akureyri in Northern Iceland. He was tasked with covering Sam's entrance so he can enter the plant covertly. During the mission, Hodge broke from his assignment to enter the plant himself over Sam's and Irving Lambert's protests. Sam believed he was too fresh and cocky to actually be on a real mission and asked Director Lambert to pull Hodge out of the mission after finding out that the mission was getting too dangerous for him. Lambert refused and let the mission continue. As Sam entered the launch facility through a disabled air vent, he watched as Hodge was confronted by an armed guard. Hodge then put his hands up in surrender, realizing that there was no way out alive because there were more guards cornering him nearby. The armed guard shot him several times, killing him. This puts the facility on alert, making Fisher's presence less covered.