Did you mean the Hunter game-mode in Tom Clancy's Splinter Cell: Conviction?
Hunter is a class for the mercenaries in Spies vs Mercs Tom Clancy's Splinter Cell: Blacklist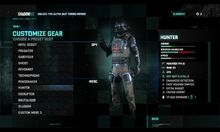 Overview
Edit
The Hunter is the a hybrid utility/fighter, utilising the UAV suit which sends out an aerial drone to scout and kill pesky spies. It uses ATS vision to detect sound with great precision due to the enhanced vision helmet. It uses VX gas grenades yet he can carry another gadget. It mostly excels in weapon's handling, armed with a Makarov PM and a RMB-93.
The hunter can support or handle on its own.
Stay on a safe spot or with your buddies when manning the drone.
Communicate with your teammates for detecting enemy presence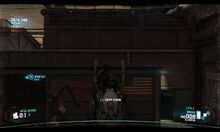 Ad blocker interference detected!
Wikia is a free-to-use site that makes money from advertising. We have a modified experience for viewers using ad blockers

Wikia is not accessible if you've made further modifications. Remove the custom ad blocker rule(s) and the page will load as expected.