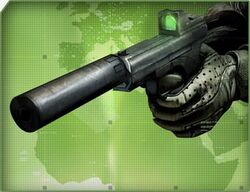 "The latest extreme conditions Pistol, featuring a low slide profile. Holds a 16-round magazine capacity."
― in-game description
The F40 (also known as the Caracal pistol) is a semi-automatic handgun manufactured by Caracal International L.L.C.
This pistol is only seen in Splinter Cell Blacklist. It can be purchased in-game for $60000.
The pistol is seen being held by the subway cop. Also Sadiq holds one with a laser sight at Site F.
Ad blocker interference detected!
Wikia is a free-to-use site that makes money from advertising. We have a modified experience for viewers using ad blockers

Wikia is not accessible if you've made further modifications. Remove the custom ad blocker rule(s) and the page will load as expected.