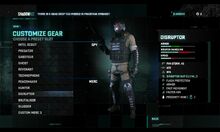 Disruptor is a default class for the mercs in Spies vs Mercs. Tom Clancy's Splinter Cell: Blacklist
Overview
Edit
The Disruptor is mainly a hybrid of sustainment, weapons handling and speed. In addition to swiftness, it has protection helmet against Flash grenades and detects electronic use. It utilises the Disruptor suit that sends a pulse which disrupts any electronic equipment used by Spies. He is armed with PX4 Storm .45 and ACE rifle while he uses Proximity Mines.
The Disruptor fights well, but he functions as utility with the Hunter (merc)
Use the Disruptor scarcely to recharge frequently.
Additionally use it to approach electronics that are far to reach or to play it safe.
Put mines near the doorways or blind spots.
Ad blocker interference detected!
Wikia is a free-to-use site that makes money from advertising. We have a modified experience for viewers using ad blockers

Wikia is not accessible if you've made further modifications. Remove the custom ad blocker rule(s) and the page will load as expected.