The CIA Headquarters is the central office building of the Central Intelligence Agency. It is a site of major importance in Tom Clancy's Splinter Cell.
The CIA Headquarters is a massive office building located in Langley, Virginia, from which almost all of the CIA's operations, both domestic and foreign, are directed and coordinated by the most elite intelligence staff in the United States. The CIA HQ is where some of the most sensitive intelligence in the U.S. is analyzed and processed, much of it through the facility's vast server system. It is from here that the CIA directs its efforts to maintain national security. It is a highly-secure location off limits to the civilian populace.
Objectives
Edit
In order to complete the mission the player must
Access the CIA central server
Retrive the SC-20K
Tap Dougherty's computer
Kidnap Mitchell Dougherty
Take Dougherty to the rendezvous point
Incapacitate the CIA security
Offices in the CIA building
Edit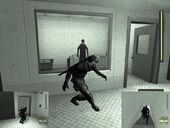 Sam Fisher infiltrates the CIA deep within. He must retrieve information from the central server and soon find Dougherty. The offices are some cubicle while others are computer rooms. The server is within a large room surrounded by computer farms. Sam also encounters a locked room that houses UFO secrets, the door cannot be unlocked.
Server Room
Edit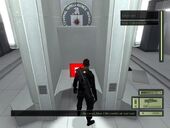 The server room houses a very large server computer that possibly contains all the information gathered around the world. The server itself resembles the server from Mission: Impossible without it being in an enclosed room. The server is surrounded by computer farms to handle the amount of data coming into the server. The server also has a round-the-clock maintenance employee's who make sure the server is working properly at all times. When Sam enters the server room, he will need to gather the necessary information before moving on to the next mission.